Need help! King quad isnt running right
---
I got a king quad from a friend, for free. Has been treated so bad its hole life it was barely worth taking for free. But now I want it to run! Now that I have it I need it to run well atleast.

Problems I have been having,

It seems to have no clutch and I dont know if thats normal. When I put it in gear I almsot do a wheelie cause its just getting slammed into gear and thats how they have been doing it forever.

Engine: It doesnt get above 25 mph. Sounds bad, backfires, smokes, has a hissing sound from the engien that causes it to die down momentarily. Like it goes PSSTT! then it bogs way down and then revs back up. It idles way to high when it wants to actually idle. I think it may be burning oil? When on the throttle it goes fine without any backfire or strange noise but has no real power. Spark plug is BLACK and dry. Compression is 143. And Other things Im probably forgetting but thats the majority.

Things I've tried:
I started by cleaning the carbs, new spark plug, and just a general tune up and cleaning. Which helped. But it goes downhill fast. Ive got the hole back end plastics taken off now to check the muffler for any type of block and havent found anything. One time I check the airbox, it was full of gas. But it hasnt had that issue since that time. I have tried to turn the air fuel mixture screw and got it to idle at its best point, its hard to get at but its not really running well enough to even tell where its good. Its at its best now though. Ive tried turning the idle screw out for the high idle but the little wire thing the idle screw is on broke off so you have to take the carb out to adjust that now. I set the valve adjustment today as well as a new head gasket to try and stop the oil getting to the cylinder. Didnt notice any difference in how it ran but it might stop buring oil. I know the gas deffinetily comes out the gas line. Even more so when its running. I hooked it up to a funnel and hose to supply it with gas and it doesnt seem to help at all.

Im concerned about one of the hoses on the carb thats gone I think that may be causing a vacuum leak, It goes from the right side of the carb to the fuel on/off/res dial. Not postive what it does but I assume it creats a vacuum to push more gas in which would be maybe why its running so slow?

Usually I can fix this stuff with enough time but I cant figure it out! Any ideas? I can post vids of how it sounds as well as pics if that helps. Im sure I missed something but theres a lot to cover!
If i forgot to add it above, the motor also gets REALLY hot when riding for a while.
First off the 300 King Quad has no clutch lever, they are semi-auto and require you to let off and on the gas switching through gears. As for the hose that goes to the on/off/res/, that is the fuel petcock. Inside this assembly is a diaphragm, when it goes bad it can and will make the bike run rough. Mine went last year and my quad refused to stay idling. Also, that could contribute to running to lean and fouling off plugs. You may wanna try changing this to see if this help. And there is no rebuild kit for them.
---
2000 Suzuki King Quad 300 4x4
K&N Air Filter
2300 lbs Superwinch
Kenda Bear Claws (Rear 25X10-12) - (Front 24X9-11)
Differential Lock Mod
13,000 + km/s
Is the fuel petcock the on/off/res switch itself so thats the piece I would replace? Whats it do? The hose is actually broken off at the carb since its in the carb with a little plastic piece, I should probably try and find a new plastic piece to get that hose hooked back up before I expect it to run right?
One other thing that just made me think of is a couple times when we were riding this thing when it got down to like half a tank we had to tow it. It would only run on a FULL tank. Still kinda does that..
---
2000 Suzuki King Quad 300 4x4
K&N Air Filter
2300 lbs Superwinch
Kenda Bear Claws (Rear 25X10-12) - (Front 24X9-11)
Differential Lock Mod
13,000 + km/s
The diagram doesnt seem to have the hose that isnt attatched.
its this hose from the back of the petcock. It has one going up the front of the wheeler thats wraped in wire as well but that one seems fine. It goes to the little broken off golden thing in this pic, on the carb.
I also noticed my carb dripping gas.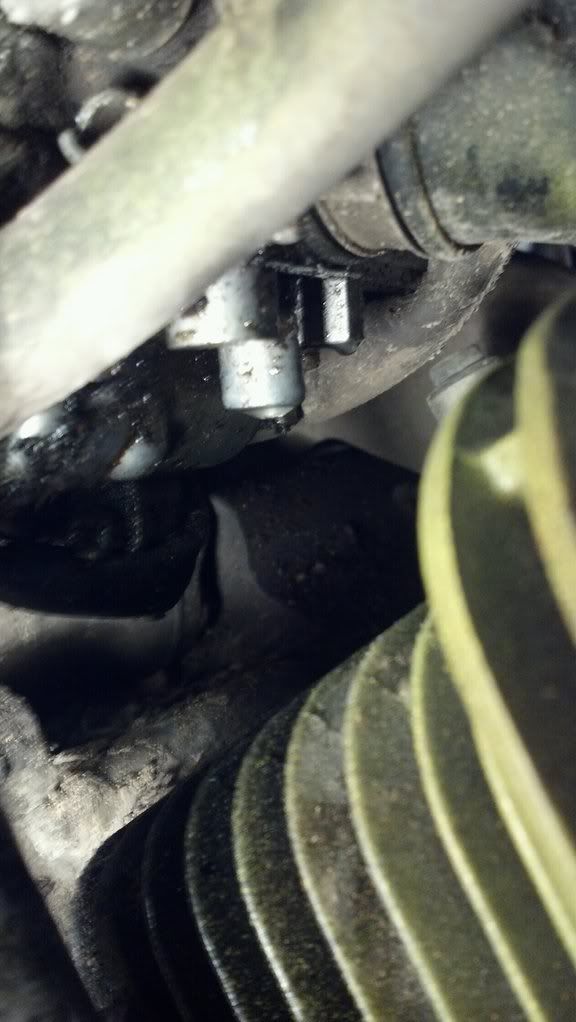 Another shot of the hose.
The broken piece on the carb is your biggest problem.This is letting air be sucked in causing a hiss,poor ideling,poor running,running lean,overheating,hard starting.Defiently need to fix this before you try and tune the engine.
---
If it dont work we will fix it while we have our dirty clothes on.Best experience is hands on experience.
IF IT AINT BROKE,DONT FIX IT.
As Zuki stated and so did i earlier, fix this broken piece on the carb first then go from there. Then we can go on with the process on elimination.
---
2000 Suzuki King Quad 300 4x4
K&N Air Filter
2300 lbs Superwinch
Kenda Bear Claws (Rear 25X10-12) - (Front 24X9-11)
Differential Lock Mod
13,000 + km/s